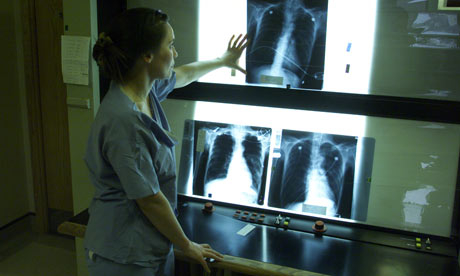 Radiography is one of the crucial fields of medicine. Photograph: Frank Baron/Guardian
Since I made the final decision to study Diagnostic Radiography, I've been asked by a few people what the difference between a Diagnostic Radiographer and a Therapeutic Radiographer actually is.
Diagnostic
Diagnostic radiographers work mainly within the radiology and imaging departments of hospitals (NHS trusts or private sector) but may also work in surgeries/clinics. When you have an accident and go to hospital, most often than not, you will see a Diagnostic Radiographer. They provide a service within most hospital departments, and work closely alongside other health-care professionals.
They use most types of imagining techniques, but they can later specialise in one particular area of choice. Some of the imaging techniques they use are:
X-ray – looks through tissue to examine bones, cavities and foreign objects
Fluoroscopy – images the digestive system providing a live motion x-ray
CT (computed tomography) – creates a 3-D image which can be split into individual slices
MRI (magnetic resonance imaging) – builds a 2-D or 3-D map of different tissue types within the body
Ultrasound – well known for its use in obstetrics and gynaecology. Also used to check circulation and examine the heart
Angiography – used to investigate blood vessels
Therapeutic
Therapeutic radiographers are becoming better known as radiotherapists. They work closely with doctors, nurses and physicists and are key members of oncology teams to treat patients with cancer. Radiotherapists deliver doses of X-rays and other ionising radiation to patients, most cancer patients. Radiotherapy radiographers may be involved in the care of the cancer patient from the initial referral clinic stage, where pre-treatment information is given, through the planning process, treatment and eventually post-treatment review (follow-up) stages.
Therapeutic radiographers in particular get to know patients because they see them regularly through the course of treatment. It is important that they can develop a rapport with the individual and their family.
I hope this makes the difference a little bit clearer for those who get a bit confused or just wanted to know!